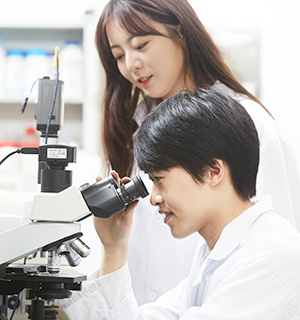 The Department of Chemical Engineering adopted the ABEEK (Accreditation Board for Engineering Education in Korea) system in 2006 and started offering a general chemical engineering program and a specialized chemical engineering program. The students acquire theoretical knowledge and practical skills by using the latest analytical instrument and experimental equipment and the Department offers an effective curriculum to support students' diverse career paths and research.
Educational Objectives
1. To develop chemical engineering-based problem solving skills
To develop the ability to effectively use knowledge in mathematics, basic sciences and chemical engineering in solving various engineering problems

2. To develop creative practical skills
To develop the ability to use knowledge in chemical engineering, independently collect information, design and conduct creative research and experiments

3. To develop the ability to work effectively and harmoniously in global environment
To develop effective communications skills including foreign language skills (presentation skills, conversational skills, document processing skills) and the ability to work harmoniously in teams and in global environment

4. To develop the qualities that real engineers should have
To educate the students to have a purpose as a chemical engineer, take social responsibilities and have insights on the trends and changes in the studies and technologies.

Majors and Studies
To produce skilled and wholesome chemical engineers that can work in the chemical engineering industry which is one of the key industries of Korea as well as an industry deeply linked to our everyday life, the Department offers a curriculum that includes basic chemical engineering courses, field-relevant application courses and new courses that deals with studies more closely linked to the present day. The Department is also equipped with and uses devices for conducting research and experiments in ultraviolet, infrared, atomic absorption, gas chromatography, UV spectrophotometer, BET, TGA, GPC, HPLC and ion chromatography to produce professionals who not only have extensive theoretical knowledge but are equipped with practical and technical skills.

The Department adopted the ABEEK (Accreditation Board for Engineering Education in Korea) system in 2006 and has been offering a specialized chemical engineering program. The Program consists of introductory major, general major and advanced major courses as well as engineering-based general education courses and MSC (mathematics, sciences and computer science) courses. The students can take advanced chemical engineering courses related to energy & environment, nano & biotechnology, semiconductor and display materials & process. New professors were recruited for the bio studies in 2007 and nano studies in 2008. The Department also works very hard on meeting the demands of the Joint Industry-Academy Advisory Committee and offers various internship opportunities to its students.