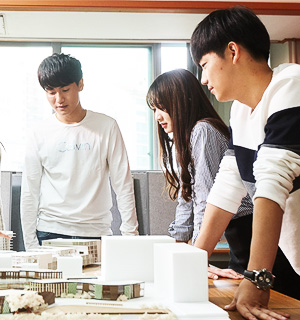 Today's architecture industry is characterized by advancement of structures, complexification of architectural process, globalization of architecture projects and rapid development and spread of knowledge. The aim of the Department Architectural Engineering is to educate the students acquire new knowledge, scientific perspective and the ability to apply their knowledge and, produce specialized professionals who can lead the architectural engineering field and contribute to the betterment of our economy and humanity. The educational objective of Kwangwoon University's Department of Architectural Engineering is to produce creative, practical and global architectural engineers.
Educational Objectives
1. To develop basic knowledge in engineering and the ability to apply that knowledge
2. To strengthen design skills and the ability to solve problems creatively
3. To produce practical and specialized architectural engineers
4. To develop engineers with global competitiveness

Majors and Studies
The Department of Architectural Engineering was accredited in July, 1988 and was officially established in 1989 with 50 students. The Department was divided into architectural design major and architectural engineering major in 2001. Later on in 2003, the Department of Architecture which is a 5-year program, became an independent department and the Department of Architectural Engineering started focusing on research and education in the engineering aspect of the architecture studies.

Architectural engineering is a discipline that conducts research on structural engineering technologies, architectural environmental engineering, facility engineering, materials, architectural and management technologies needed in building structures. It covers structural analysis, materials, design, materials, processes, environmental design and facility planning for common houses as well as for skyscrapers. The students learn and carry out research in construction project management processes such as planning, construction and maintenance, focusing on improving the efficiency and lifespan of structures. The students also learn about 'environment-friendly architecture' that promotes harmonious co-existence of humans and the nature, 'energy-saving architecture' and about the latest architectural technologies for designing stronger structures that can withstand external forces such as earthquakes. The Department also reorganized its curriculum into a new specialized architectural engineering program that meets the requirements of engineering education accreditation.