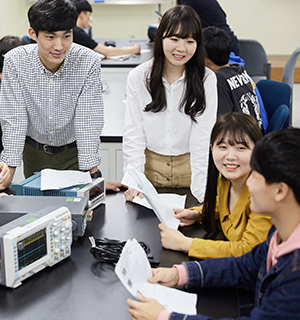 The Department of Electronics and Communications Engineering conducts research in electronics and telecommunications technologies and is aimed at producing skills professionals in the information and telecommunications field. The Department offers theoretical and practical courses designed to develop logical understanding of basic electronics and telecommunications concepts through the use of advanced IT equipment. Through computer-simulated learning, the students develop understanding and skills for designing various circuits and also, get to discover and expand their creativity through projects. Providing such education, the Department aims to produce specialized individuals who can apply their knowledge in solving various technical and engineering problems in the electronic and telecommunications field.
Educational Objectives
1. To produce skilled engineers that have creativity and practical knowledge
2. To develop comprehensive, engineering design skills required for solving various problems
3. To strengthen research and development capacities needed for leading the future technologies
4. To develop communication skills and leadership needed for global collaboration
5. To produce individuals with sound understanding of social responsibilities and work ethics

Majors and Studies
The Department of Electronics and Communications Engineering is Kwangwoon University's most cutting-edge, technological department that conducts research in and provides education in core technologies in the electronic and telecommunications field. The Department aims to produce specialized individuals needed for developing a foundation for Korea's electronic and telecommunications field.
Telecommunications industry which encompass signal transmission and transfer, digital signal processing, system software engineering and various information and signal-related areas, is one of Korea's key industries and a technologically-intensive industry that will lead Korea's future economy. The field relies heavily on technologies, especially the speed and trend of technological development and it is increasingly more integrated with technologies from other fields.
The Department is focused on providing education in advanced technologies of the electronics and telecommunications field and developing students' future-oriented mindset which is highly required in our global and informatized society. It offers theoretical and design courses, field-friendly lab environment and computer-simulated learning environment and projects which are all designed to develop students' creativity and practical skills. The graduate program of the department conducts research in computer systems, next-generation internet, computer network, video and audio signals, optical communications system, integrated circuit design and etc.
There 15 full-time professors, 100 students in each class and 40 graduate students working very hard on their research and learning. The graduates find their career in major corporations, national research institutes, government organizations, medium-sized, computer-related companies and startups, broadcasting and media companies and various other fields. The undergraduate and graduate students in the department carry out in-depth research projects with many of the fields listed above and discover their career goals and opportunities, experiencing actual, field-relevant areas.