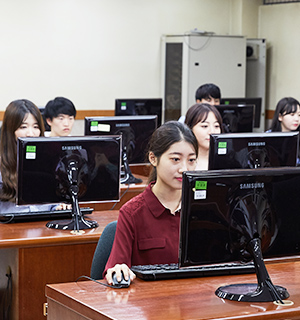 Through theoretical and practical lab courses designed to develop understanding of embedded computing system, software and hardware used in smartphones, the Department of Computer Engineering produces creative and globally competitive individuals who can lead the research and development in world's computer engineering field. The Department offers a systematic educational program through its accredited engineering education system, ABEEK.
Educational Objectives
1. To develop field-relevant design capabilities
2. To develop creative, engineering problem solving skills
3. To develop effective and comprehensive communications skills required in the globalized society

Majors and Studies
The Department of Computer Engineering produces individuals who can contribute to the development of our computer industries by conducting research and offering education in basic concepts and the latest applications of computer engineering.

The Department which started as the Department of Applied Electronic Engineering in 1963, has been the cradle of computer engineering, continuously carrying out innovative research and producing skilled computer specialists. The Department currently has two labs equipped with advanced equipment for computer-related basic and applied experiments and an embedded Linux lab.

The Department also has a computer lab equipped with 40 computers which can be used for programming, system design and other experiments. Aimed at producing creative individuals through practical education, the Department offers 3 advanced degree programs (Computer System, Digital Signal Processing, Communication Network) and allows the students to learn their major in depth. The Department also trains and produces professionals seeking to work in research, production and education through its masters and Ph.D. programs.

Currently, there are 11 professors conducting research with masters and Ph.D. students in the Information Engineering Lab, Information Communications Lab, Multimedia Information Systems Lab, Intelligence Video Communications Lab, DSSP (Digital System Signal Processing) Lab, Mobile Computing Lab, Wireless Network Lab, Media Processor Lab and Video Processing System Lab.