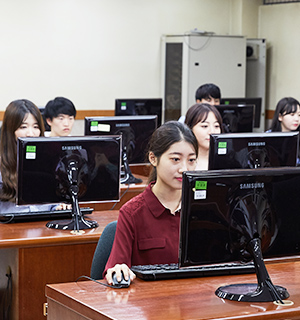 Through theoretical and practical lab courses designed to develop understanding of embedded computing system, software and hardware used in smartphones, the Department of Computer Engineering produces creative and globally competitive individuals who can lead the research and development in world's computer engineering field. The Department offers a systematic educational program through its accredited engineering education system, ABEEK.
Educational Objectives
With the advent of the era of technological convergence in which the boundaries between physical and digital space are blurred due to the 4th Industrial Revolution, creative convergence talents are required to flexibly respond to future social changes and create new things based on artificial intelligence (AI). The Department of Information Convergence, which was newly established in accordance with this trend, is educating convergence AI talents with the ability to solve problems facing the AI society. We are offering a systematic curriculum for data science majors for creation, collection, and analysis of big data through AI technology and for visual technology majors for video content creation, processing, and management. The Department of Information Convergence is waiting for creative talents who will lead the future society led by AI technology.
Majors and Studies
1) Visual Technology Major
- User-centered content design and implementation using AI/SW technology (UX/UI/HCI)
- Design and implementation of mixed reality system applications based on understanding of computer vision, graphics, and HCI
2) Data Science Major
- Big data analysis based on AI/SW technology
- A field of technology that extracts new value from data and analyzes the results
After graduation, students can work as big data experts, data-based artificial intelligence experts, IoT developers, database experts, information security consultants, management information system developers, web engineers, marketing, and commercial rights analysis, UX designers, service planners, mobile/web developers, web publishers, and VR/AR developers in various industries. In addition, after going to the KWU, leading graduate school in Korea to study in depth, academia, students can grow as a researcher in the industry or a research institute of a national institution.