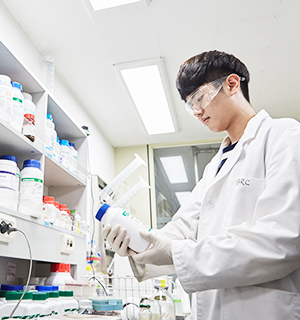 The Department of Chemistry offers education in basic concepts and application of chemistry through lectures and experiments focused on physical chemistry, organic chemistry, inorganic chemistry and analytical chemistry. It also offers advanced courses on physical chemistry (kinetics, quantum mechanics), organic chemistry (physical organic chemistry), inorganic chemistry (organometallic chemistry), new material chemistry, instrumental analysis, biochemistry and organic spectroscopy.
Educational Objectives
Chemistry is a branch of science that studies the composition, structure, properties and change of matter and an academic discipline that has developed through history, side by side with civilization. Today's societies are fiercely competing for technological innovation and we all understand that there can be no development without studying the fundamental sciences.
The importance of chemistry as the driving force of technological development is increasing in our highly-industrialized society. The Department of Chemistry aims to educate students in advanced knowledge that our society demands of and produce chemical experts who have creative and logical mind and can become leaders in our technologically advanced society.
Majors and Studies
The Department offers a 4-year program and in-depth courses in physical chemistry, organic chemistry, inorganic chemistry and analytical chemistry. The students learn basic chemical concepts such as structure, composition, reaction and analysis of matter and conduct research using modern experimental equipment such as NMR, FT-IR, HPLC, UN-Visible, Infrared, Atomic Absorption / Flame Emission Spectrophotometer, GPC, TGA, Elemental Analyzer, G and GC-Mass. The Department offers courses in quantum chemistry, spectroscopy, instrumental analysis, chemical thermodynamics, statistical thermodynamics, chemical kinetics, solid chemistry, physical organic chemistry, organometallic chemistry, organic synthesis, electrochemistry, industrial chemistry, polymer chemistry and biochemistry to broaden students' scope of knowledge and also trains the students through experiments, seminars and research guidance.