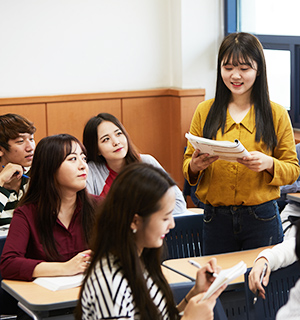 The Department of convergence Sports Science was originally established as Department of Sports Instructor in 2000 and the name was changed to Department of Sports and Leisure Studies in 2006 but the name was changed to its current name in 2019. The Department of convergence Sports Science aims to foster the sports industry and expand the quantity and quality of professional human resources and professional leaders by increasing the social, cultural and economic value of sports. Based on the knowledge, information, and culture related to sports, Contribute the development of Sports Science and Prepare an exellent progessional training program by converging the humanities, society and science and technology sectors
Educational Objectives
The Department is aimed at producing specialized sports instructors who are equipped with theoretical knowledge and practical skills, who can increase people's desire to improve their health and who can develop people's responsibility, teamwork skills, diligence, integrity and love of the country. To this end, the Department has developed the following educational objectives.

1. To pursue and realize the principles and philosophy of holistic education and provide various learning opportunities to develop characters and creativity in individuals
2. The Department offers a curriculum that allows the students to study and conduct research in theories of sport science as well as the technical and physical aspect of sports.
3. The Department develops students' physical skills and also focuses on achieving field-relevant education by providing opportunities for field-learning of sports and leisure acitivites.

Majors and Studies
The Department analyzes various functions and types of sports generated with the increase of public interest in sports and studies sports in terms of medicine, business management, mass media, health and welfare to produce experts in sports and leisure studies.