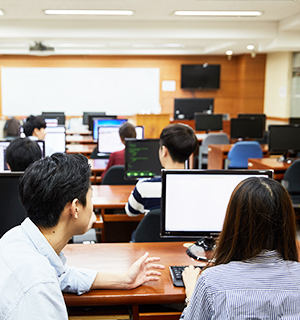 The Department of Electronic Convergence Engineering is aimed at producing individuals equipped with practical skills, creativity and the ability to effectively apply their knowledge in electronics and telecommunication technologies. The Department offers a curriculum designed not only to deepen the knowledge in electronics and telecommunications but to develop students' ability to apply their design skills and practical knowledge to various areas including broadcasting, media, national defense, energy, environment, biotechnology and auto industry and carries out educational programs that fosters students' understanding of the current and future technologies, communication skills and teamwork.
Educational Objectives
1. Produce practical skills
The Department aims to produce students' practical skills by offering programs and the environment for hardware & software experiment related to comprehensive electronics and telecommunications and design practice.

2. Strengthen engineering problem solving ability
The Department trains students to understand the flow and trend of development in the electronics and telecommunications industry and develops their economical, engineering problems solving skills.

3. Develop research capacities
The Department develops students' research capacities by offering in-depth courses and opportunities for learning basic sciences, electronics, telecommunications and integrated technologies.

4. Produce global specialists
The Department fosters students' communications skills, sense of purpose and goal, foreign language abilities (English presentation skills, conversational skills, document processing skills), teamwork and other qualities that global specialists must be equipped with.

Majors and Studies
The root of Kwangwoon University starts from the 'Chosun Radio School' established by Dr. Kwang-woon Cho in 1934. It was the very first radio-related educational institution in Korea. Since its establishment in 1991, Kwangwoon University's Department of Electronic Convergence Engineering has been specializing in RF, radio wave, antenna, mobile and satellite communications and has produce many skilled professionals in those areas.

The Department's RFIC Center, which was designated as an ITRC (Information Technology Research Center) by the Ministry of Information and Communications, has the country's most advanced RF-related research facilities and infrastructure, and continues to lead radio-related research nationally and internationally, exhibiting various RF products and innovations at international conventions. Selected as one of the key departments nurturing experts in radio science and engineering in the government-led Brain Korea 21 Project and also selected as one of the key departments specializing in radio engineering, the Department was awarded with 500 million won of governmental subsidies from 2002 to 2004 and was able to provide scholarships to its students. Also, by participating in the NEXT Project supported by the Ministry of Information and Communications for strengthening IT competitiveness, the Department was able to improve its research facilities, equipment, internship program and educational materials. From its traditional ground in mobile and satellite communications, the Department continued to expand its technological and research scope into areas such as national defense, broadcasting, multi- and digital media, automobile and construction to create synergy between information and electronic technologies with other fields. With such expansion, the Department changed the name from the Department of Electronic Convergence Engineering to Department of Electronic Convergence and diversified its curriculum, offering students more opportunities to a wide selection of courses and career paths.

Kwangwoon University's Department of Electronic Convergence Engineering will continue to recruit outstanding faculty in the electronic convergence field, expand its research facilities and strive to become a leading department in the field.