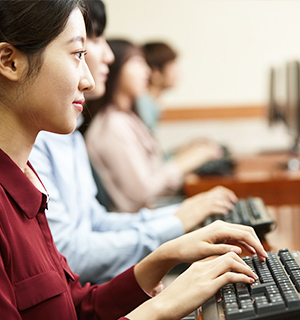 The Department of Computer Software produces skilled individuals who can carry out research and development in various computer software areas. The Department encourages and trains the students to acquire in-depth understanding of mathematics, logic and computer hardware and to apply their knowledge in developing core system software and applied software. The Department's key educational and research fields are, software, database, programming system, telecommunications, computer game, next-generation internet and computer security.
Educational Objectives
Research and studies on technologies for using computers to process information and data are becoming increasingly more important in today's information society. School of Software aims to produce computer software specialists who are creative, lead new technological development and adapt quickly to rapidly changing computer technologies with their knowledge in today's computer software technologies. The Department has set up the following educational objectives to train global computer software specialists equipped with the practical skills that the industries demand of,

1. To develop creative problem solving skills and practical skills
- To develop students' abilities to solve various engineering problems and to apply their knowledge in the workplace
2. To develop research capacities and lifelong skills
- To encourage and train the students to continuously improve and develop their skills throughout their life.
3. To develop comprehensive design capacities
- To develop effective communications skills and teamwork
4. To develop global competitiveness
- To develop students' macroscopic perspective and ethics which are essential in the global society

Majors and Studies
System Software Major, Application Software Major

First established as the Department of Electronic Computation in 1971, the Department of Computer Software has since been the cradle of research and education for computer software. With the aim of producing skilled professionals for today's information society, the Department conducts research and offers education in basic concepts, application and advanced technologies of the computer software field. Currently, there are two undergraduate labs being used for software and application experiments and an embedded Linux lab used both by undergraduate and graduate students. The Department also has multiple workstations and computers available for software experiments. It added computer game and information security courses in the curriculum in 2003, realizing the industrial trend and, added advanced telecommunications track in 2005. The undergraduate students can take advanced major courses starting from the 2nd semester of their 3rd year. The Department adopted the ABEEK (Accreditation Board for Engineering Education in Korea) system in 2002.