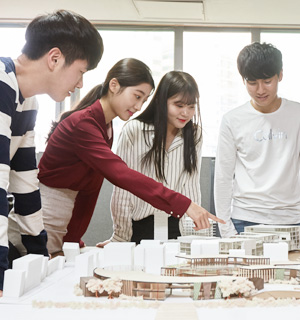 Architecture is a composite art that is based on humanities, social sciences and natural sciences and also a unique academic discipline that plays an important role setting the paradigm of living spaces appropriate for our rapidly changing society and developing future-oriented urban spaces that best utilize the environment and advanced technologies. To produce creative architectural specialists that our highly-modernized and informatized 21st century demands of, the Department of Architecture offers a 5-year program that meets international standards and invests all of its energy into providing the best educational and research environment.
Educational Objectives
1. Universalis Design – To produce global architects that can lead the world
Kwangwoon University's Department of Architecture includes various events and activities in its design education, Also, the Department carries out joint design education program with Qingdao Technological University's Architecture Department in China. The Department encourages and supports the students to participate in various national and international design competitions and the students have achieved outstanding results in those competitions.

2. Unicus Design – To produce creative architects
By learning about, understanding and analyzing the principles of houses, structures, community and urban spaces and about architectural planning, architectural design and project management, the students acquire comprehensive knowledge in architecture. The Department also offers the students to experience various cultures by participating in international education programs and to exchange and explore their architectural creativity. The students get to develop ideas and skills by participating in architectural trips, international student workshops, international architectural expo and seminars.

3. Utilitas Design – To produce individuals equipped with practical, field-applicable skills
During breaks, from the 1st semester of the 3rd year to the 1st semester of the 5th year, the Department selects students for short- and long-term field training programs to offers students the opportunity to experience the industry. The Department is mostly focused on motivating the students and helping them acquire the knowledge acquired in the actual field.



Majors and Studies
The Department offers courses that covers communication, cultural context, design, technology and practical works in accordance with the international standards of the Korea Architectural Accrediting Board (KAAB) and is equipped with studios, conference rooms and labs that promote students' research activities.

Urban Planning Lab (Professor Sam-gyu Noh)
Architectural Planning Lab (Professor Seung-jae Kim)
Virtual Reality Architecture Lab (Professor Yoo-jin Shin)
Modern Architecture Lab (Professor Chae-cheol Gyun)
Architectural Design Lab (Professor Jin-mo Kim)
Historical Theory Lab (Professor Sung-yong Cho)