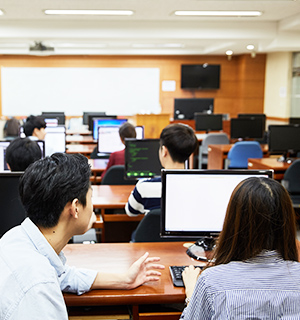 The Division of International Trade was newly established in 2008 by combining the Department of International Trade, Department of Chinese Studies and Department of Japanese Studies. It consists of two majors, Korea-China Trade Major and Korea-Japan Trade Major.
Location : Rm.223, Hanul Hall
Tel : 82-2-940-5320
Fax : 82-2-940-5329
e-mail : movie0128@kw.ac.kr
Introduction
In the 21 century the world is changing faster and Asia becomes to play more important role on the international stage. Facing such dramatic changes, the business and industrial world requires versatile and enterprising professionals with multilingual skills as well as academic and practical knowledge of international economics, management, and trade affairs. The Division of International Trade, since it was established in 1981, has nurtured global leaders who play active role in the Korean business world. The Division of International Trade has developed a well-organized education program to raise enterprising professionals who adapt to the changing business environment and lead the change. Particularly, we invite international students who are eager to be business leaders or experts in economics and trade in the Northeast Asia. We provide special care to international students in order for them to be assimilated to our education program.
The goal of education
The Division of International Trade is pursuing to achieve its goal of education as follows:
(1) raising international business specialists with international mindset and communication skills
(2) raising experts equipped with academic knowledge about international economics, international management, and trade business affairs
(3) raising enterprising professionals who are able to analyze and extend international markets
(4) raising trade leaders with creativity and challenge spirit in the Northeast Asia
Undergraduate Course Description
The Division of International Trade provides high-quality education to reach its goal, namely raising experts in international economics and trade, as described below.
(1) 1+1 foreign language education (English + Chinese/Japanese)
(2) In-depth education (theoretical and practical) about international economics, international management, international commerce, and logistics
(3) Internship program, called IPP (Industry Professional Practice), through which students receive both in-class education and workplace education
(4) Regional studies about the Northeast Asia region and about the countries that belong to the region (China, Taiwan, Japan, and Korea)
Unique features of the Division
The Division of International Trade has unique features that provide excellent opportunities to prepare students as experts in international trade and economics.
(1) exchange student program, overseas language training, commissioned education program with universities in the U.S., China, Japan, France, New Zealand, Ireland, Malaysia, Thailand, and Philippines
(2) business and academic cooperation system such as global internship program of KITA (Korea International Trade Association)
(3) field learning and field trip to distribution and trade facilities, such as Busan port, Incheon port, Pyeongtaek port, and manufacturing facilities of Korean conglomerates
(4) careful student-oriented guidance by an academic adviser
(5) 6 study session (study group) about economics, finance, international trade, and the Northeast Asia
(6) Networking between international and domestic students (through language exchange, culture experience, team projects)
(7) support to acquire professional certificates, such as Customs Broker (licensed customs agent), Financial Risk Manager, and International Trade Specialist
(8) support for foreign language examination such as TOEIC (English), HSK (Chinese), and JPT & JLPT (Japanese)
Career path after graduation
The Division of International Trade has a strong record of job placement, especially of international students. After graduation, the domestic students of our division have good opportunities to get a job in various fields. Like students from similar departments of other universities, graduates enter into manufacturing firms, trading firms, financial institutions, and distribution companies. Recently, a growing number of students get jobs in the public sector related to international affairs and international trade, such as KOTRA (Korea Trade-Investment Promotion Agency) and KOICA (Korea International Cooperation Agency). Particularly for international students, they can take a special opportunity to find jobs related to both their home countries and Korea or to study further in graduate courses about international affairs. In keeping with the name of the Division, currently, the Division is planing to establish the international student alumni association.