Kwangwoon University Acquired the 3rd Cycle University Institutional Evaluation Certification
Kwangwoon University Acquired the 3rd Cycle University Institutional Evaluation Certification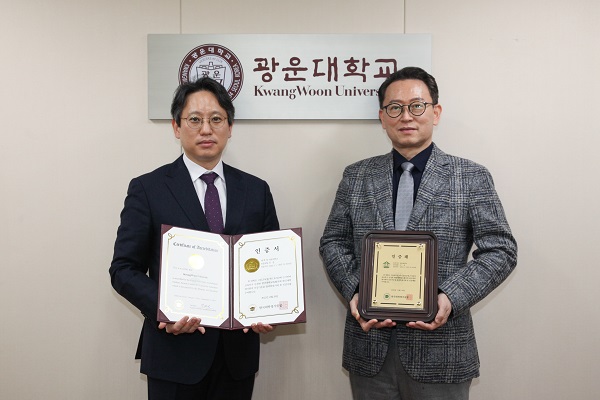 Kwangwoon University received a certificate plaque and certificate at the "University Institutional Evaluation Accreditation Certificate Award Ceremony in the second half 2022" held at The Plaza Hotel on December 29, 2022 (Thu).
「University Institution Evaluation and Accreditation」was introduced in the 1st cycle (2011-2015) and 2nd cycle (2016-2020) to secure social responsibility and international acceptance through quality assurance of university education. In the third cycle (2021-2025), it was intended to induce the establishment of a system to improve the quality of university education and increase the sustainability of universities.「Accredited universities」 have been continuously improving university operations with higher education related laws and the quality of education that universities want to implement.
This 3rd cycle University Institution Evaluation and Accreditation is quantitative and qualitative evaluation of 5 evaluation areas and 30 evaluation criteria, including university philosophy and management, curriculum and teaching-learning, teachers and staff, student support and facilities, and university performance and social responsibility.
Kwangwoon University obtained accreditation by meeting all accreditation criteria based on continuous improvement of curriculum and educational environment, strengthening of student support system, and high university performance. The accreditation period is 5 years until December 2027.
President Jongheon Kim said, "The level of university education at Kwangwoon University has been recognized internally and externally through the third cycle of university evaluation certification. Based on this, we will try to lead the era of superconvergence through various government administrative and financial support projects and continuous university competitiveness."