2022 ABEEK Accreditation
Kwangwoon University's College of Electronic and Information Engineering, College of Software Convergence, and College of Engineering acquired 「Certification」 from ABEEK from April 24 to 26, 2022, through a visit evaluation and response period for engineering education accreditation colleges.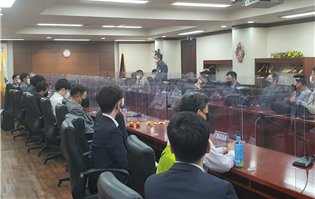 Engineering education accreditation is a system that operates a curriculum that meets global accreditation standards to ensure the quality of engineering and related educational programs and international equality of academic background. As a result, engineering education-accredited graduates are guaranteed a degree that will equip them with the skills required by industry and society and have internationally equivalent qualifications in all areas of society.
| | | |
| --- | --- | --- |
| Department/Division | Certification | Rank |
| Electronic Engineering | Yes | Excellent |
| Electronics and Communications Engineering | Yes | Excellent |
| Electronics Convergence Engineering | Yes | Excellent |
| Electrical Engineering | Yes | Excellent |
| Electronic Materials Engineering | Yes | Excellent |
| Robotics | Yes | Excellent |
| Computer and Information Engineering | Yes | Excellent |
| Software | Yes | |
| Architectural Engineering | Yes | Excellent |
| Chemical Engineering | Yes | Excellent |
| Environmental Engineering | Yes | Excellent |
「Certification」 as a result of Kwangwoon University's accreditation evaluation>
[Ministry of Education Evaluation and Accreditation Agency: Accreditation Board for Engineering Education of Korea (www.abeek.or.kr)]