'Plasma Bioscience Research Center', a University-Focused Research Institute Opens
'Plasma Bioscience Research Center', a University-Focused Research Institute Supported by the Ministry of Education Opens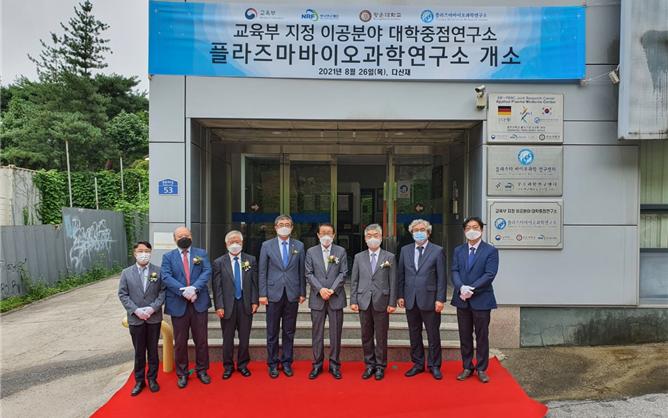 The opening ceremony of the Plasma Bioscience Research Center (PBRC) [Research Center Director: Prof. Choi Eun-ha], a university-focused research institute supported by the Ministry of Education, was held on August 26, 2021 (Thursday) at Dasanjae, Kwangwoon University.
The attendees of opening ceremony were Yoo Jisang (President of Kwangwoon University), Kim Kiyoung (Chairman of the Samil Cultural Foundation), Kang Heejae (Honorary chairman of the Korea Vacuum Engineering Association), Kim Joomyeong (President of Seoul Lifelong Education Promotion Center) and Park Cheolhwan (President of Kwangwoon University Industry-Academic Cooperation Foundation)
Since the 'Plasma Bioscience Research Center' was designated as a leading research center in 2010, it has been conducting leading research in the field of plasma biomedical science and has conducted various domestic and foreign industry-university-research cooperation research and technology transfer. Based on this, it has been selected for the University Key Research Institute (UKRI) project implemented and supported by the Ministry of Education and the National Research Foundation and will conduct research for the next nine years from 2021 to 2030.
The Plasma Bio Science Research Institute aims to focus on university research on plasma environment bio convergence technology, train professionals through youth start-ups in the campus town community and the creation of economic specialized hubs, and promote the participation of companies related to plasma environmental bio convergence science and technology transfer at Kwangwoon University
The research director of the institute is Professor Choi Eun-ha, and consists of 15 people, including 10 full-time professors from the Department of Electronic Biophysics (Kim Do-young, Park Byung-joo, Lee Kun-joon, Park Kyung-soon, Park Kyung-soon, Jang Min), the Department of Environmental Engineering (Jang Yoon-young, Yang Jae-kyu, Jang Min), and the Department of Chemistry (Professor Jang Hong-je), and 5 PBRC core professional research professors (Hong Young-joon, Choi Jin-sung, Korean, Lim Joon-sup, Jong Cho-eun) participate in plasma environment and bioconvergence research. The total number of graduate students involved is 25 and plans to expand the participation of graduate students to 50 in the future.
The participating organizations include Kwangwoon University and Seoul Metropolitan Government (Hongneung Seoul Bio Hub, Changdong and Sanggye Seoul Bio Medical Cluster, Kwangwoon University Station Business District Economic Growth Hub, Nowon-gu), and three companies including Plasma Bio Industry Promotion Association, Korea Reliability Association, and Korea Smart Medical Foundation, as well as companies such as Bioplatech, Dow Korea, Seorin Medical Care, and Paco Korea Industries.
Professor Choi Eun-ha, the director of the institute, said, "The Plasma Bio Science Research Institute will apply the results of its research on improving environmental pollution of the atmosphere, water quality and soil through the Atmospheric Pressure Plasma Environment and Bioconvergence Research to the transfer of corporate technology and the revitalization of youth projects to revitalize the local economy." He added, "We will actively make efforts to make the Plasma Bio Science Research Institute the world's No. 1 research center leading the field of plasma environmental bio science."